🎨🖌️Activating Your Inner Artist: Mercury in Pisces🖌️🎨
On March 15th, Mercury entered Pisces and FINALLYYYYYYYYYY left Aquarius after which it first entered on January 8th of this year. Mercury retrograded in Aquarius and took what felt like forever to clear its post shadow through the last degrees of Aquarius there.


Now that Mercury is in Pisces, things can start to get a lot more imaginative and artistic around here...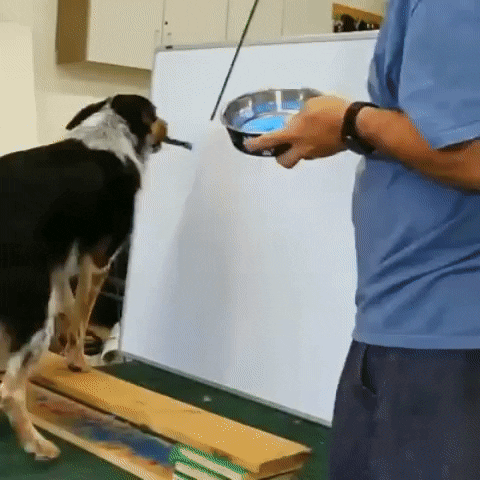 🎨What was Mercury in Aquarius all about?
Mercury in Aquarius was a lot about things like groups, communities, and technology. How do you use social media -- or perhaps misuse it? How do you invest energy in time with your friends -- or communicate with them? Where have there been widespread societal inner workings that need equality, addressing, and healing? These are the types of things Aquarius likes to address.


I don't think its any accident that Harry & Meghan's bombshell interview with Oprah (I don't have to link it since literally millions of people have watched it and it made news all around the world!) was filmed during the Mercury retrograde in Aquarius. It was filmed at the beginning of February but released at the beginning of March, while still in post shadow. Majorrrr bombshells were dropped in that interview which churned gossip machines a flowing while also revealing potentially gross inequalities in the monarchy system.


I know for me February was hands down one of the most difficult months I have had in ages. SO much came up to be released, worked, and healed and it was often not always pretty. Because Aquarius is co-ruled by Uranus this can bring in the energy of "Tower moments" and unexpected events. It can also shake us loose from realities in a completely new way.


🎨What will Mercury in Pisces be about then?
Mercury in Pisces will be about breaking free of fixed air mindsets, and shifting into more feelings, emotional, heart centered based thinking. Its where we connect the mind with the heart. Mercury isn't exactly strong in Pisces (it would much prefer to be in Virgo or Gemini, its exalted placements), but here it can at least take a breather from the fixed air nature of Aquarius it long just lingered in.


With Venus also in Pisces, this is a wonderful time to embrace inner child, healing, and forgiveness work. What in you needs to be emotionally released? Whom do you need to forgive? What does your inner child need from you right now? These are all wonderful questions to ask of yourself at this time.


🎨What's the positive side of Mercury in Pisces?
Here, Mercury interacts with Neptune. It embraces oneness and compassion, forgiveness and healing. It also helps us tap into our subconscious mind, our intuition, and ways of using feelings as a form of emotional intelligence. What do your feelings offer to you about this situation? We all know sometimes we cannot logically make sense of something at times, but yet it FEELS so good and we are therefore so drawn to it. We need to pay attention to those little Neptunian moments. That's when we are tapping into the sea of all that is.


🎨What's the shadow side of Mercury in Pisces?
The tricky thing about Neptune is that although it rules fantasy, imagination, and media, these things can also easily be twisted or warped to reveal untruths, unrealities, or exaggerations of the truth. We have to watch with Mercury in Pisces for being "overly misused" or deceived in some type of way. Pisces is a nostalgic sign, and we can often forgive and forget when we would do best to remember facts and logic that correspond with certain stories too.


🎨How can we best engage this Mercury in Pisces energy?
Mercury in Pisces is a fantastic transit for engaging your artistic and imaginative capabilities!
Mercury will be here through the rest of March and until April 3rd , so why not take up a new crafting, coloring or painting hobby? Here are some of my tried and true favorites.


Color / Adult Coloring Books
One of my joys of life is listening to favorite podcasts or spiritual talks and coloring. I have an assortment of adult (and some teen!) coloring books that help me channel my inner artist and engage my inner child. Its so healing on a manifestation level to set your mind to something and begin creating it. You can have fun with shading, color matching, and creating something new and entirely unique. Its so stress relieving, and you will be amazed at how fun it can be! Here's a fun one to get you started.


Pro Tip: Have an assortment that includes some smaller / faster to complete ones. If you have too many which are overly complex, it gets overwhelming.


Here's one of my latest creations from my "Color Love" coloring book:


DIY Painting / Paint by Numbers
Another thing I have always loved to do is paint, and -- with thanks again to Mrs. Hinch Home -- I found a way to reinvent that in a fun time management way! The lovely Mrs. Hinch introduced me to Paint by Numbers kits. In these, you get to pick out a painting you want to bring to life, and you work carefully to color match different sections of the painting to their corresponding numbers. Slowly, you get to see shading and nuances of the painting come to life, until it begins to establish itself in more and more form. I absolutely love these you don't have to start and finish it all in one go. Its easy to pick right back up where you last left off. There's so many to choose from too! Here's a Pisces approved one to get you started.


Pro Tip: Set a day of the week or a time of the night in which you will paint. Make a routine of it. This is a wonderful creation ritual you can create for yourself.


Here's a delightful winter snowman piece I made during this winter:
Lastly, bring in the rainbows!
Because Pisces rules imagination and fantasy, this is a wonderful time to indulge in your fantasy reads, fantasy movies, and all around rainbow infused magic. Check out my Venus enters Pisces blog post for a magical refresher too. Right now, I am also crushing on my rainbow Hogwarts house colored candle from Tiff's Wicks Candles. Use my code CANDLES10 to get 10% off any purchase of $35 or more at her magical shop Etsy here.
🌼 Get a Season Ahead Reading with Me! Its the perfect time to dig into what the next 3 months are going to be about for you energetically and what medicine you need to work.

Learn more about this offering here!

🌼
Julie Ann Fae is a Professional Astrologer and Certified Angel Card Reader. She weaves together the magic of the moon, stars, and planets with fairy flair. She uses oracle cards and astrology to enliven, enlighten and inspire others. Check out more on this blog and visit her offerings at julieannfae.com.


Support my small business by shopping the links below!


Select Amazon links may be affiliate with qualifying purchases. This supports my spiritual business at no additional cost to you.